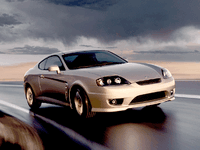 Year Models
Trims
Available Colors
Alpine White

Cardinal Red

Cobalt Blue

Jet Black

Lithium Yellow

Super Silver Metallic
The Hyundai Tiburon is a sport compact coupe produced by Hyundai since 1996. Enthusiasts sometimes refer to the Tiburon by the nickname 'Tib' or 'Tibby'.
Based on the current Elantra platform, this car is front wheel drive. The 1999-2001 Tiburons were marketed as the Turbulence in its home market of South Korea. Its successor model is marketed as the Tuscani. Outside South Korea, with the exception of North America, the car is marketed as the Coupé. In North America, Austria and Australia, it retains the Tiburon nameplate. Engine choices include a 1.6, 1.8, or 2.0 inline four-cylinder Beta engine with variable valve timing on the inlet valves (CVVT) or a 2.7L V6 Delta engine. The car is available with a five- or six-speed manual or a four-speed automatic transmission.
Hyundai first produced the Tiburon in 1996. All versions of the Tiburon manufactured from 1996-2001 were called RD Tiburons. There was no 2002 Tiburon. It was available in a few foreign markets with engine choices of either 1.6L or 1.8L. In the United States, The Tiburon was first offered in 1997 with an engine choice of 1.8L. Then Hyundai upgraded the Tiburon to an available 2.0L Engine choice, marked the FX in 1998. The Tiburon was offered in 1998 with both the FX (2.0L) model and the base 1.8L model. It is rumored that in 1999, Hyundai invested a large amount of money into the body style of the Tiburon, but left the engine unchanged. The Tiburons manufactured from 1999 to 2001 are referred to as 2nd generation RD Tiburons (RD2's). The 2.0L was rated at 140 hp at the crankshaft (the car's manual specifies 102kw at the flywheel). The 1.6L was not offered in America. The 2.0L produces a 0-60 time of 7.1s, with a 1/4 mile time of 16.5s. Base weight was around 2556, giving the RD Tiburon a higher power to weight ratio than the newer GK 2.0L. None of the RD tiburons had ABS (edit by reader: ABS was available with FX versions, which also had dics brakes in the back, comparing to drum brakes, which was standard for Base trim).
Early model GK (2003+ Tiburon) GT V6's were rated at 170 horsepower, while newer ones are rated at 173 hp SAE . The 2.0 inline four-cylinder produce 145 hp at 6000 rpm and 184 N·m (138 ft·lbf) of torque at 4500 rpm. The 1.6 produces 105 hp @ 5,800 rpm and 143 N·m @ 4,500 rpm. The V6 engine produces 173 hp @ 6000 rpm and 245 N·m (181 ft·lbf) @ 3800 rpm. It can produce 0 to 100 km/h times of 7.2 seconds.
In Australia, the 1996-2000 Hyundai Coupe was assessed in the Used Car Safety Ratings 2006 as providing "significantly worse than average" protection for its occupants in the event of a crash.[1]
Turbulence is the OEM name giving to the 2nd generation Tiburon over in Korea. The Tiburon only lasted from 97(6) til 1999 (RD1). Then the Turbulence was developed (RD2), and lived the years 2000 through 2001. Now the Tiburon is badged a Tuscani (GK).
1st Generation(1997-1999)
[
]
Also known as the RD1, the first generation of the Hyundai Tiburon follows in the footsteps of the Hyundai Scoupe, coming into develpment in 1997. It was shipped with the Beta engine.
2nd Generation(2000-2001)
[
]
With the kickname, RD2, the second generation of the Hyundai Tiburon was launched in 2000. The RD2s were also shipped with the Beta engine.
Although commonly refered to as the 2003 Tiburon, the third generation model went on sale in 2002. This is a significant redesign rather than a facelift of the previous edition although has been facelifted in 2005 and a further final facelift has been displayed at the 2006 motorshow in China. The 1.6 litre variant is visually identified by a single exhaust rather than twin exhausts (one at each side). The third generation is commonly refered to as the GK.
Engineeering
[
]
Three engine choices are offered, although not in all markets.
1.6 inline 4 cylinder Alpha
105 hp @ 5,800 rpm and 143 N·m @ 4,500 rpm.
2.0 inline 4 cylinder Beta II featuring variable valve timing on the inlet valves (CVVT)
OBDii Protocal KWP2000
145 hp at 6000 rpm and 184 N·m (138 ft·lbf) of torque at 4500 rpm.
173 hp @ 6000 rpm and 245 N·m (181 ft·lbf) @ 3800 rpm.
Performance
[
]
These are manufacturers quoted figures:
Acceleration 0-60mph: 11.6 Seconds Top Speed: 115mph
Acceleration 0-60mph: 8.9 Seconds Top Speed: 132mph
Acceleration 0-60mph: 8.2 Seconds Top Speed: 136mph
It should be noted that the manufacturers performance figures are considered particularly conservative and much lower acceleration times of approximately a second less have been recorded in many road tests by motor magazines. The car is available with a five or six-speed manual or a four-speed automatic transmission with Shiftronic.
Equipment and safety
[
]
The exact specification will depends on model and the market where it is sold but these are some of the features available:
ABS Brakes, Dual Circuit with brake force distribution
Front (variable rate) airbags and side airbags
Side impact protection bars
ESP Stability Control
Traction Control
Electric windows, sunroof
Heated front seats
Trip Computer
Air Conditioning / Climate Control
Leather / Half-leather / Cloth interior
Sports seats
Alloy wheels (normally 16" or 17")
Additional guages featuring torque, fuel consumption and voltage
Design
[
]
It has been rumoured that the third generation model was quite heavily influenced by the Ferrari 456 design by Pininfarina
RD1 vs RD2 =
[
]
Will [this] part from an RD1 fit on an RD2? Vice versa
On the outside, the front fenders and side skirts are compatible. Everything else is unique to the specific generation. Interior, the gauges will not work. Shift surround can work, however it may look out of place. Stereo surround will fit also, but won't match the dash correctly. Seats, cargo cover, and center console all should work without a hitch. Front and rear strut bars are compatible, as is headers, intake, cams, cold air intake (exc. REV A Tibs) and pretty much anything else mechanical will work, i.e. struts.
What is a Rev A Tiburon?
[
]
If you own a 1997 model year Tiburon, then this is for you. Otherwise, you have nothing to worry about. What a Rev A Tib consists of is an Evap canister (for the fuel vapors) that is placed behind the left side fog light making it impossible for the placement of an AEM (or any knock-off) cold air intake system. (after 1997, this Canister was moved to the rear of the vehicle)

It also includes captive rotors in the front which allow for easier wheel bearing replacement, but do not allow for most aftermarket wheels.
Related Pages
[
]
PHOTOS OF HYUNDAI TIBUTION FX 2002
External Links
[
]