Overview
Halo HID Headlight Installation/Overview
Tools
Halo HID Headlight Installation/Tools
Instructions
Halo HID Headlight Installation/Instructions
External Links
Halo HID Headlight Installation/External Links
Overview
Alright, it's probably one of the easiest things I've ever done. Took me 10 minutes to do both headlights... outside, in the cold windy darkness. Holding a flashlight. I didn't time how long it took to drill the holes, because I did that while "working" using the company drill press. Probably took 20 seconds total wink1.gif Complete install was done on my 15 minute dinner break (night shift).
Tools
Instructions
First - drill a hole in your headlight cover. About 1/4 inch... make sure the grommet will fit in there. I had to drill a second hole for the red and blue wires to go through. You may not have to, it depends on your setup.
These pictures will pretty much explain everything else. The hardest part was latching the bulbs in with that stupid metal clamp thingie we have. It's always a PITA for me changing bulbs. Just force it in and it'll be fine.
In the first picture, I put a label on pretty much everything. I can't explain it any more than that really.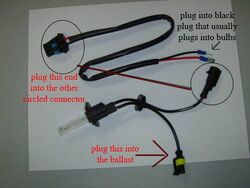 In the second picture, pay attention to where the holes are drilled. Not a big deal really. Follow the wires to where they connect to the ballast. It's really very easy, just plug the connectors in the only place they can connect.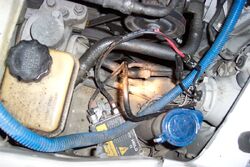 In the last picture, it shows the ballast behind the battery. I bolted it to a hole left open from when I removed my factory intake boxes. It works perfect. The wires run around my battery to the headlights with no problem.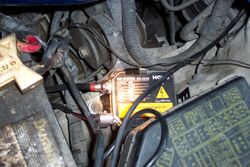 External Links
If you want to add personal links, please do that on your user page (you can also write your profile there). If you have a link with great content that are needed, you can add it at here.
Community content is available under
CC-BY-SA
unless otherwise noted.