DIY Difficulty Level
Easy
Overview
[
]
This is a DIY on mounting your new double din radio into the stock hyundai double din slot. I followed guidance from other members, which told me to shave off a little at a time. it's pretty easy if you know what to expect.
Tools
[
]
Pliers
Dremel with sanding/routing/grinding bits
Screwdriver
Corona w/Lime
Project time - 2 hours
Instructions
[
]
Mounting HW
[
]
The plates on the side of the stereo to hold it in place need to be modified SLIGHTLY to work. There's a pin Hyundia put on there to keep it in place. it is not a standard feature on most stereos. It will stop you from putting in your screws. You need to use pliers to bend it flat. Just grab on with a pair of pliers and squeeze it. The screws will hold it in place just fine on your new deck
DIN surround
[
]
Ok, basically Hyundai came up with their own proprietary version of a double din surround for our vehicals. The ends are too round. To install a double din stereo you need to chop the corners of the stereo surround square. I used a dremmel. The entire din mount is somewhat rounded. You should make your cuts about 1" by 1" square corners.
mark the area to be removed
dremel- grind out a large chunk of it with a wheel attachment
dremel- route out smaller areas
dremel- sand smooth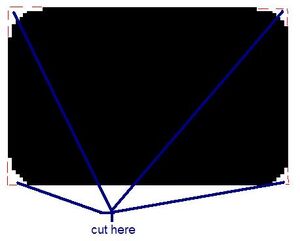 Theres alot of rumors that say it's not wide enough or not tall enough. it's perfect, just with rounded edges. Chop them off like in the picture and you'll be fine using your new double din radio with the old mounting hardware
Trim Ring
[
]
The edges of the stereo surround poke out and do not allow for a trim ring to be instaled. Our member fonseca had luck with sanding the edges of his trim ring down and glueing it in place. If you need more help with the trim, fonseca suggests that you can look at this guy's work.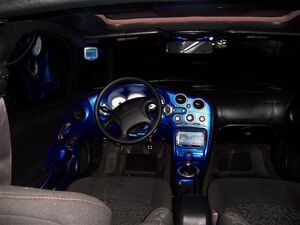 External Links
[
]
If you want to add personal links, please do that on your user page (you can also write your profile there). If you have a link with great content that are needed, you can add it at here.